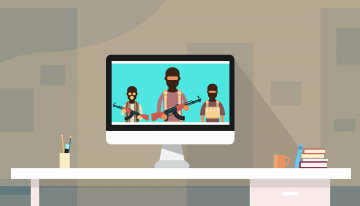 Our blog this week is written by guest blogger Beatrice Cadet. An International security  and Psychology student, Beatrice is passionate about child safety and tech. Currently living in France, she has also lived in Spain and California, working for start-up companies. She joined our team at Zeeko as a Strategy consultant in June 2017. Beatrice hopes that her work will have a positive impact on people's lives. 
On October 17th 2017, Zeeko attended an event organized by the Counter Extremism Project, in Brussels. At the event panellists from different backgrounds shared their thoughts and knowledge on counter-terrorism. The event happened to coincide with the end of the battle of Raqqa, a Syrian city claimed as a capital by ISIS.  Groups like ISIS continue to try to spread their message throughout the world, including on European soil.
With the knowledge that ISIS's main audience is found on the internet and particularly on social media, it has become necessary for technology companies to cooperate with governments and law enforcement agencies to strengthen their content policies. Together, Facebook, Youtube, Microsoft and Twitter form the Global Internet Forum to Combat Terrorism(GIFCT), a structure aimed at significantly restricting the publication of violent and extremist content online. The big four are collaborating to implement a comprehensive approach, more efficient policies, create a shared database and explore innovative solutions. An example of a control measure by Microsoft was the release of PhotoDNA in 2015, developed by Hany Farid, a professor in Digital Forensic Science. The software detects abusive pictures and now videos and audios, preventing their proliferation on the internet. Let's hope that the collaborative efforts of the GIFCT expands and develops further solutions.
The development of these tools using Artificial Intelligence represents a huge step forward in the fight against violent and abusive content online. Mark Zuckerberg is a leading advocate of the use of AI against terrorism. However, mistake rates are still high leading to content being over censored on a range of   platforms. According to Professor Hany Farid, we are still years away from autonomous efficient technology solutions. Thus, as of now, "the best technology against terrorism is the one combining humans and computers".
Despite tens of millions of images being censored in 2016, the technology used against terrorist content is limited and companies are still trying to get ahead of t terrorist organisations in relation to this. Education remains crucial to help make children more conscious of radicalized ideologies they may encounter when they are online especially when isolated and online for long periods of time.
Teenagers are particularly vulnerable to radicalisation, due to the challenges around their stage of development and differing levels of maturity. Indeed, terrorist organisations aim to exploit this by brainwashing individuals who are looking for their own identity, life goals or a community when they feel marginalised.
Educating children about online threats and developing their critical thinking skills is currently, one of our best weapons against radicalisation. Ultimately, teaching kids to take care of their mental health, will create a more resilient generation, where extremism will struggle to find a young audience.