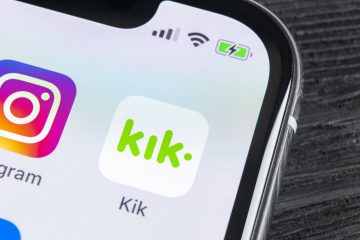 Sharing videos, images and messages via apps is fast becoming a new communication phenomenon among Irish children and teenagers. Kik is a new messaging app which allows users to chat and also share videos, images and content from the web in the form of a text message that does not have a limit on the number of characters used. It's therefore very appealing to teens who message and share extremely frequently. So, what do you need to know to ensure that your child stays safe if they use the Kik app?
As with many apps, Kik has an age restriction of 13 years to be able to sign up to use the app. Users create an account with a username and don't need to give any more detailed information than that to sign up.  If your child is under 13 and has created a Kik account, the messaging app encourages parents to submit a deactivation request by contacting support@kik.com. Use the subject line 'Parent Inquiry' and include your child's Kik username and age in your message. You should also be aware that there are a number of in app purchases that your child may be prompted to buy when using it. There are also a number of chat functions within the app that mean that your child could speak to a stranger while using the app, including group chat with up to 49 users.
Online stranger danger is without doubt a huge concern for parents. As with most apps there are safety settings that can be enabled on this app, but as we always say these are never a 100% guarantee of protection. It is therefore very important that you have a conversation with your child about the importance of staying safe when they are online, in particular when using messaging apps, like Kik. Explain to your child the importance of behaving the same way that they do when they are online as they do when they are offline. For example, they would not share personal details like their address with someone they didn't know when they are not online, so they shouldn't do so when online either. Also remind them of the importance of only sharing content with people that they know and also to be conscious of what they see others share. If they are not comfortable with what they see shared, remind them that it is ok to come to you or another adult who they know and trust to talk about how they feel. Using an app like Kik can be exciting, particularly when it is a new experience. Those using it can easily get carried away in the excitement of messaging and sharing content and may well forget the importance of taking care with what is shared. While Kik encourage users to ignore unwanted messages, it is important that your child knows how to make smart choices online to help them to stay safe.
The reality is that messaging via apps is here to stay, giving children the tools to help them stay safe while using apps like these is teaching them a skill for life.