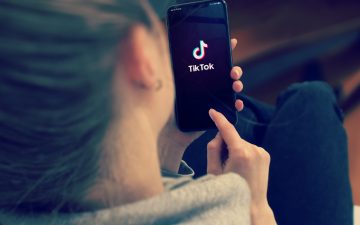 Another day, another app to try and wrap your head around! TikTok is the latest addition to the ever growing stream of social media apps that are worth knowing about. If you have a young person in your life that is smartphone-savvy, there's a good chance that they are using this app already. We have provided a quick summary of what the app is, what's good about it, what's bad about it and what you can do to ensure a positive experience for all!
What is it?
TikTok is a mobile app that lets you shoot short videos (15 seconds or less) lip-syncing to popular songs and TV/movie clips. Users can edit their videos with filters, stickers (mini graphics) and special effects. Tik Tok allows you to collaborate with users from around the world and post reactions to their videos. You can like, share, post comments on videos and follow other users, just like any other social network.
In August of this year TikTok acquired their rival competitor, Musical.ly, another lip-sync video sharing app. In the first 4 months of this year, the app was the most downloaded app on iPhone. It's not surprising then that it now has over 100 million users.
Are there age restrictions?
TikTok requires users to be over 13 years old to use the app. However, under the new European General Data Protection Regulation (GDPR), the digital age of consent in Ireland is now 16. Therefore in Ireland, anyone under 16 is technically not allowed to hold an account on this app. If your child wants to use the app, the account should be owned by an adult who can supervise what the younger user is watching and posting.
The good side of TikTok
It is free, easy to use and the in-built editing tools are very user-friendly so that even beginner videographers can create a decent video.
The app is all about self-expression and is a fun way for users to express their creativity, whether it's through dancing, lip-syncing, comedy, beauty tutorials or whatever they are interested in.
There is a built-in "Digital Wellbeing" feature that alerts users when they have spent over 2 hours on the app.
Some TikTok users have risen to internet fame by building a massive following through the app and have translated their lip-syncing successes into moneymaking careers, spanning from clothing lines to record deals.
The bad side of TikTok
Inappropriate content:
Because the TikTok music library is full of popular music, a lot of videos contain adult content like swearing and sexual references. It is easy on TikTok to find videos with young teens dancing and lip-syncing to sexual lyrics, probably unaware of what they are actually promoting. There is a darker side to the app as well, with videos containing suicide ideation and self-harm references. TikTok won't allow you to specifically search for objectionable content such as "sex," but nevertheless it can be easy for kids to stumble across these kinds of videos.
What can I do? Show an interest in what your child is watching and who they are following on the app. If they want to upload their own video, offer to help them make it. In this way, you can make sure the content they are using is appropriate.
There is also a "Flag" feature on TikTok, so you can report anything that you feel needs to be reported. Click the 3 dots button (…) and select "Report abuse."
Cyberbullying:
With any social network where you can comment on another person's content, there is always a risk of cyberbullying, and TikTok is no exception. Much of the cyberbullying comes from the reaction feature, which allows users to upload a response video to any public video. This feature is meant to be used as a way to duet with other users. However, it has led to a surge in internet trolling on the app, with people setting up accounts for the sole purpose of making fun of others.
The rise in popularity of TikTok has had a lot of media attention lately and this has given birth to a vast amount of cringe compilations. A quick search on YouTube results in an overwhelming amount of these videos, some with over 5 million views. Their sole purpose is to mock and embarrass the people in the videos, usually without consent from the video owner to use their content.
What can I do? Keep your TikTok accounts on private. They are automatically made public when you first set them up, so make sure to go to the "Privacy and Safety" settings. From there you can control who sees your uploads, who can message you and who can react to your videos.
As with all social networks, there is a "Block" feature, so you can block and report any user who you do not want to hear from.
Online Stranger Danger:
As with all social networks that attract young people, there is a risk of them being targeted and manipulated. There is an unusually large amount of older male adults using the app to "duet" with kids. This usually involves them reacting to a video of a young girl or boy lip-syncing, with the content being unsettlingly flirtatious.
It's important to remember that these kinds of users are in the minority. The majority of people on TikTok are using the app with good and harmless intentions. However, it is our duty to protect kids from all kinds of potential dangers online.
What can I do? Make sure that your child's account is set to private and that their friends and followers on TikTok are people you know in real life. Teach them about their digital footprint and the importance of keeping private information (addresses, numbers etc.) off the internet.
At the end of the day, TikTok has the same potential risks as any other social network. As long as you are aware of these risks and know how to prevent them, there's no reason why TikTok can't be an enjoyable app for you or your child to have fun with.