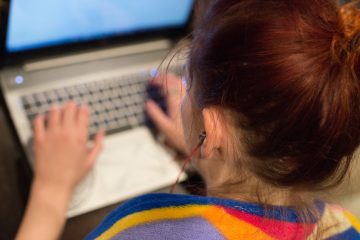 It is likely you have seen or heard coverage in the media this week of the findings of our most recent research at Zeeko, the findings reveal what Irish children are doing when they are online, their social media platforms of choice and what digital devices kids are using to interact with others, both people known and unknown to them online.
Sexting:
Something that older children are doing is sexting. Sexting is the taking of nude or semi-nude images and sending them on to someone. We conducted this research with over 2,000 students in 30 schools throughout Ireland during 2017.
We found that Irish teenagers are more likely to engage in sexting the older they get, with 13% of secondary students admitting they had sent nude or semi-nude photos or videos of themselves.
The rate of sexting rises as the teenagers get older. For instance, 4% of first year students said they had sent a sext image, while 34% of sixth years said they had done it.
Boys are twice as likely as girls to sext – 17% for boys compared to 9% of girls. These results should not be considered alarming, says cyber-psychologist and Head of Research at Zeeko, as they need to be seen in the context of child and adolescent development. They are perfectly in line with what happens on a biological, psychological, and social level at that age. Adolescence is a crucial time for the definition of gender identity and sexual orientation, she points out.
"Adolescents explore sexuality, are eager to meet peers and partners and to establish romantic relationships. Texting and sharing videos and photos respond to the need to explore and experiment with sexuality."
There would be concern if nine-and 10-year-olds were exhibiting this kind of behaviour, she says, but it is quite normal in teens.
Social Media Platforms:
Snapchat, Instagram, YouTube and Facebook were revealed as the students' social media of choice.
Interacting with Strangers Online:
Our research found 32% of first years said they had interacted with strangers online, but that figure jumped to 70% among sixth years. Over 54% of sixth class students have admitted to speaking to a stranger online.
Also, while 8% of first years had physically met online strangers, 38% of sixth years admitted physically meeting a stranger from the internet.
Other highlights from the Zeeko Digital Trend Report in relation to Primary School Children Include:
Confirmation that hand-held tablets are a more popular device used by students between 1st and 6th class than smartphones, laptops, consoles or iPods.
67% of children in 3rd class access the internet, play games online and use apps from a tablet as opposed to 42% using a laptop or desktop.
50% of children in 5th class have one or two hours a day "screen time" and over 30% of first and second class children are spending 1 to 2 hours a day in front of screens.
IOS devices are more popular than Android amongst all age groups.
When asked "if they had ever been cyberbullied or experienced cyberbullying happening to people around them", the following numbers of students said they either had or knew someone who had been cyberbullied:
– Sixth class students 34%
– Second class 26%
– Third class 26%
– Fourth class 24%
– Fifth class 23%
– First class 15%
Over 54% of sixth class students have admitted to speaking to a stranger online
Our CEO and co-founder Joe Kenny says that, 'As an organisation, Zeeko is constantly researching and discussing issues to try to give an objective insight into this rapidly changing online world, as well as to try to help parents and teachers make sense of it.'
If you would like further details on our most recent Digital Trend Report or would like us to visit your school to deliver an interactive workshop on staying safe online to students, staff and parents don't hesitate to contact us.