What are digital skills?
Digital skills are the ability to source, evaluate, organise, use, and communicate information that can be obtained from the internet or on a computer or a device. Since the first computer was invented, there has been a need for digitally skilled people to operate and work in roles where digital devices are used. Nowadays, we think it's fair to say that very few jobs don't require the employee to have some digital knowledge or skills. Even schools now opt for working in the cloud, digital books and online classes.
Our children are exposed to digital technology from an extremely young age. However, this use of digital technology is often used to distract them for a few minutes or for entertainment. Children and students must understand as they get older how vital digital skills are to their further development and careers.
How important are digital skills for the modern-day student?
Digital skills are vital for the modern-day student. If lacking in digital skills, students will face educational and professional development challenges. Digital skills are a step further into a world with a whole new selection of opportunities to advance and have the best possible professional career options. There are so many digital skills, and you might be wondering what skills are the most important and where is the best place to start. Here is a list of 5 crucial digital skills;
Typing and using the keyboard
Typing sounds basic, but it is an extremely important skill to have. Keyboard efficiency is a skill preferred by most employers. The ability to complete a typing task in a short amount of time will stand to students when applying for jobs. When students progress to further education, completing and submitting assignments on time and with less stress will be essential.
Word processing
Following keyboard efficiency, students should be able to submit their work in clearly formatted documents. This means that students should be able to display their work in a presentable manner, including font, text size, headings, tables, margins and alignments etc. Students should also be able to create different types of documents with different layouts, such as CVs, reports or research findings.
Use of Excel and Databases
Excel is often overlooked because it can be difficult to learn and easy to forget when not practising or working with Excel continuously. A general understanding of creating, reading, utilising and editing a document is a great place to start. Then moving on to text formatting, data entry, mathematical symbols, and more. Employers now look for some form or experience in working with spreadsheets, and, of course, in further education, they will most likely require this skill for a large variety of university courses.
Creating Powerpoint presentations
Creating PowerPoint presentations is a really great skill to have as a student. Making great, visually appealing and informative presentations to convey their message is hugely beneficial in both school and professional life. Learning how to include images and multimedia in their presentation and formatting them correctly to convey their message to their audience.
Use of Multimedia
We now live in a content-driven world, so students with knowledge of editing and creating videos and multimedia will surely have the upper hand. There are now so many free editing tools for students to learn from, like Canva and Capcut; with enough practice, anyone can become a pro.


How can you improve students' digital skills in the classroom?
Not all students can access the same resources at home, so implementing digital learning into the classroom is a good idea. Here are some ways you can do this.
Introduce a digital programme
Dedicate some time each week to students working on computers. This is a good opportunity to set tasks around typing, using Word, Excel and creating sample PowerPoint presentations.
Digital boards allow students to view digital devices for educational purposes while keeping them engaged. They also incorporate different learning techniques, which makes them more applicable to more students. Tasking students with completing tasks on the board will help further their digital skills.




Implementing a digital programme into your classroom has huge benefits. It allows students to work together and independently while improving their digital skills. They might not even realise it's happening, but it sure is. We have just the programme for you, the Magical Leaders programme.
How can the Magical Leaders improve digital skills?
You may or may not have heard of the Magical Leaders programme already; however, it is a digital programme designed and produced by educational professionals to ensure that it covers all bases regarding 21st-century skills and digital skills.
The entire programme is online, from enrollment and teacher training to the game the students play. The Magical Leaders programme provides many opportunities for children to use and improve their communication and presentation skills digitally. The support of their peers and an agreed class charter helps the students plan and deliver each lesson confidently. The students learn to use problem-solving and communication skills and apply them during the digital lessons and activities.
The classroom is broken up into groups. Each group has a presenter in charge of presenting the group findings. One computer driver for the class uses the keyboard to move the avatar through the virtual world to help the class complete the tasks. There are various different levels where students must complete the different tasks, questions and activities based on 21st-century skills in order to move to the next level.
Although there is only the requirement to have one computer driver for the class, should your class have Ipads or tablets, they can all access the game through the app. The app is now available on Android and IOS. The Magical Leaders programme enhances digital learning and provides the perfect basis for improving digital skills in a safe, fun and engaging environment.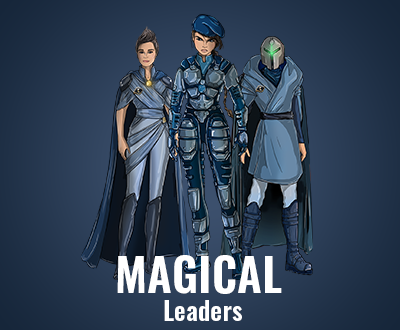 Magical Leaders
Zeeko's Magical Leaders programme is a peer-led programme that helps children develop 21st-century and transversal skills. The programme encourages your students to develop their leadership skills as they oversee leading the lessons. The programme is engaging, fun, and interactive! The Magical Leaders programme is fully developed, with detailed lesson plans and instruction manuals included.
Funded by Enterprise Ireland, the programme is currently free to schools in Ireland. For more information, visit our website or get in touch with the Zeeko Team today.
Teachers can sign up for our Monthly Teachers Newsletter here. Don't forget to sign up for our Parents Blog List here.