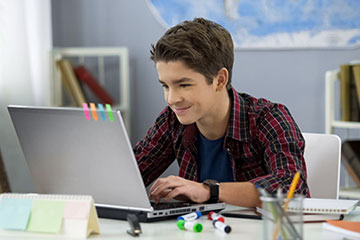 One of the questions we are asked most regularly at our parent seminars relates to how parents can ensure that their child is safe online, when they are not at home or under parents supervision. This is definitely a challenge and is certainly a concern. The opportunities for children to access inappropriate content or potentially interact with someone they don't know online are of course greater when a child knows that they are not under their parent's supervision.
So what can parents do to increase the likelihood that their child stays safe online when they are, for example, at a grandparent's house or on a play date? As always, communication is central, whereas usually our focus  at Zeeko is parent to child and vice versa in this instance, it is important that you communicate with whoever your child is being cared for by. Talk to them about how you manage internet safety at home, the expectations you put in place in relation to, for example, the amount of time that is spent online and the kind of games that are played.
Also let other care givers and parents of friends  know what  protections you have in place in relation to safety settings and protecting against inappropriate content.
It is human nature that when your child is under the supervision of another adult they may try to test the boundaries i.e. say that they are allowed to play a game that in reality they are not, spend longer online than they usually do or access sites that they know you would not allow. Having a conversation with other caregivers in advance, should ensure that situations like this are quickly dealt with.
It is also important to talk to your child before they visit another house to remind them of what you expect in relation to internet safety and that this will be the same when they are on a play date or at a relative's house.
Reminding your child of the Stop Block Tell Rule as a way for them to stay safe online and also of the 5:1 Rule in relation to screentime, we have  developed at Zeeko, will be a way of reinforcing that regardless of their location and who is supervising them, internet safety is a priority for you all as a family.
Here is a great article from The Guardian focusing on what parents who work in the area of cyber security tell their kids about staying safe online:
https://www.theguardian.com/technology/2014/aug/11/how-to-keep-kids-safe-online-children-advice
The challenges of parenting in a technology saturated world certainly extend beyond your home.
The Zeeko Internet Safety Guide offers more comprehensive information and advice on keeping your child safe online. If you would like to buy a copy of the book you can do so here.
We regularly update our social media channels so you can keep up to date with our work at Zeeko. Connect with us via Facebook, Twitter and LinkedIn .