With so many digital devices available to children now, parents are often very concerned about what their children are able to do on such devices. Apps can offer a world of education and exploration to your child but the myriad of Apps currently available can also prove a minefield to navigate for children and their parents alike.
At our seminars and parent crash courses we hear directly from parents that they are concerned about what their children are doing with the digital devices they are using, who they are interacting with and what content they are viewing. Given that most, if not all devices are now mobile, parents inevitably have less control over how their children use the internet. Irish families have moved away from having one PC centrally located where parents could keep an eye on what their child was viewing on the internet. Digital communication has undoubtedly gone mobile and Apps are a core part of children's digital journey.
Regardless of what Apps your child is using it is  crucial to keep the lines of communication open, skill yourself up on what the most recent Apps that children are using and pay particular attention to any advice in relation to safety settings. Sharing your experience with other parents is a great way of both hearing what children are doing online and also helps to reassure you that your concerns are a shared experience.
It is important to know that many Apps are another way to use the internet. Children in particular, may be unaware of this and think that they are just playing a game or only talking to a friend they know. Reminding your child that the internet is like a notice board is a great way to teach them to be careful and conscious of what they post online.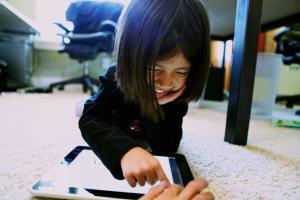 So what solution is available for parents that will enable them to monitor who their child is communicating with online? At Zeeko, we are currently developing an App to help you to introduce your children to safe online communication in a controlled environment. This App will allow children to chat with their family and friends that you have approved. Parents can discretely oversee their child's activity using the Parent Zone, while the Kid Zone has a child-friendly interface. You can find out more about the Zeeko App here.