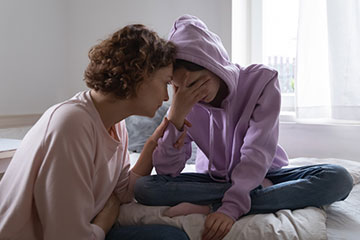 Our blog this week focuses on something that parents of teenagers can rightly be very concerned about; sexting. Sexting is the sending or receiving of sexually explicit or sexually suggestive messages, images or videos. Sexting  usually happens in a very immediate way via text, email, video, or instant messaging. Teenagers usually engage in sexting as a way to flirt or share a joke with friends, but of course it can have far more serious implications.
A survey carried out in 2014 entitled 'Teenage Sexting' by the National Campaign to Prevent Teen Pregnancy, found that: nearly 40% of teenagers have posted or sent sexually suggestive messages, but it is more common among boys than girls. Sending semi-nude or nude photos is more common among teenage girls at 22% girls and 18% of boys. This survey also found that 30% of teens who sext are sexting  someone who is not their boyfriend or girlfriend and 15% of teens who have sent or posted nude or semi-nude images of themselves have sent these messages to people they met online.
So what can parents do to ensure that their teen can deal with sexting? Communication is crucial here, talking to your child about internet safety well before they encounter sexting is very important. Remind them that they can be honest with you about what they are experiencing online, without fear of punishment. Also speak to them about how important it is that if they receive something explicit that upsets them they should immediately delete it.
Teenagers can also be very loyal to their friends and will not want to get them into trouble. It's a good idea to acknowledge this loyalty while reminding your child that they should still delete any explicit messages they receive immediately. It is important that they also realise that if there is an investigation and your phone records from your service provider are searched, it will show that you deleted explicit messages within seconds of opening. This is also an opportune time to remind your teenager that what they do online can be very difficult to permanently delete and could adversely affect their future career prospects. While there is currently no law in Ireland that specifically governs the act of exchanging intimate content online or the more problematic non-consensual sharing of explicit content, this of course could change at any time given the constantly evolving nature of people's use of the internet.
Deleting any sexting messages that are received means that further distribution and victimization would be minimised. If your teenager knows a friend is distributing naked photos of themselves or others encourage them to strongly advise their friend to stop and delete the photos they have taken. Needless to say if you or your child is concerned about the well-being of the person depicted in the images, you may want to report this behaviour to your school or another parent.
Teenagers like to explore and push the boundaries and this is totally natural. However, it is important that teenagers feel empowered to make informed choices in relation to staying safe online, particularly where something like sexting is concerned.
The Zeeko Internet Safety Guide offers more comprehensive advice on keeping your child safe online. You can buy a copy of the book here.
We regularly update or social media channels and you can follow us on Facebook, Twitter and LinkedIn.