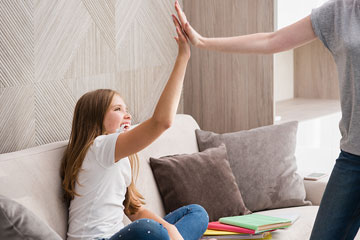 One of our primary objectives when we are speaking to kids, parents and teachers is to encourage open communication on all things digital. Kids can often feel a little bit protective of their online identity, and can even sometimes be ashamed of some of their online behaviour. Encouraging your cyberkid to be open and honest about their digital journey and reassuring them that they will not get in trouble for being truthful about their online actions is a really important step in empowering your child to be a responsible internet user.
Being a 'chatbudi' means being that person that they can talk to about their experiences online, whether to share a positive story about what they're learning or playing while on the web, or confiding in you about some of the issues they might be facing. Any responsible adult can be a 'chatbudi', once you are someone that the child trusts and feels comfortable confiding in. The good news is that you don't need to be a tech whiz to be a 'chatbudi'; you simply need to have a very basic knowledge, and we can help you with the rest.  Our aim is to promote safer internet usage amongst kids, and allow parents to be responsible digital guardians. The Chatbudi app is a great digital tool that allows kids to chat to their real world friends safely online, while parents can discreetly monitor and oversee their usage in the background.
We want to help parents be responsible digital citizens and we have compiled a set of digital resources to facilitate this. Between the information on our website, in our blog and our digital parenting guide, you can get yourself up to speed on the latest trends in internet usage among kids. We have also gone to great lengths to discover what social media platforms kids are using at the moment, explain cyber-bullying, internet addiction and how to use your computer and internet browser's safety features. Our ongoing research keeps us at the forefront of these trends, so we in turn can keep you up to date – as the saying goes, knowledge is power!
The most important point to bare in mind in all of this is that the internet is an extremely positive and powerful tool in the vast majority of instances.  It is rapidly becoming a more integrated part of our day-to-day lives and your child will have to rely on their digital literacy skills throughout their personal, professional and academic life. So embrace it, encourage its safe usage, empower your child and encourage them to appoint a 'chatbudi' who can share their digital journey!
Why not download the Chatbudi app here today. We would also encourage you to visit our website and blog regularly to keep up with the current trends. In addition, you can also download our digital parenting guide here which is full of helpful tips and advice for the Digital Parents and 'chatbudis' out there!