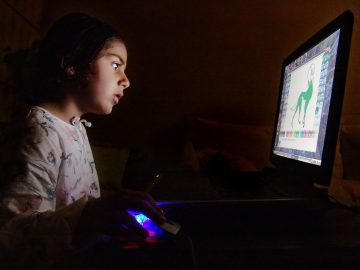 Does your child like to spend time playing games online? Are you considering buying some online games for your child this Christmas? Children may start playing using a smartphone, Tablet, or iPhone and then move on to the digital devices that have become household names. Devices, like the PS3, PS4, Xbox 360, Xbox One and the Nintendo Wii are designed to work with a TV. Consoles like these are capable of connecting to the internet via a home internet connection just like other computers. The graphics in these consoles alone mean that the games are almost life like and children of all ages are very much attracted to playing the games available with consoles. So, what can you do to help ensure that your child stays safe while playing on a console?
The first thing to do is to check out what parental controls are available with the console and to activate these. Parental controls are of course important, but they are not a 100% safeguard for your child in relation to gaming. There is also a good chance that older children in particular may find ways around parental controls. It is also a good idea to talk to your child about the absolute importance of only gaming with people known to them. Obviously, this is an easier message to send to younger children. Teenagers like to push the boundaries and may well use gaming via a console to interact with strangers. This usually happens through a messaging system within the console. In some instances, this may purely be for the enjoyment and competitiveness of the game itself but there can be a more sinister side. Remind your teen of the importance of making smart decisions when they are gaming and to trust their initial instinct. If something doesn't feel right about an interaction to trust that. Telling an adult that they know and trust about what they have experienced when online is also important. The most crucial aspect of all this communication is that your child knows that it is ok to come to you to discuss what they are experiencing when gaming.
Age limits on games and how to manage that where consoles are concerned is another challenge. Ultimately, age limits on games are linked to the content. The content of some games is just not suitable for children. You are the best judge of your child's level of maturity. The content of many of the older age range games is graphic in all the meanings of the word. It's a good idea to do some research on the content of a game before deciding whether or not your child has the maturity to handle the content. Talking to other parents about what they have seen or heard about content can be helpful. The Pan European Game Information (PEGI) age rating system exists to help parents make informed decisions about buying games. PEGI age labels appear on the front and back of games packaging. Additional 'descriptors' shown on the back of the packaging indicate the main reasons why a game has received a particular age rating. It's a good idea to be particularly aware of the 'online gameplay' descriptor which indicates whether a game can be played online.
The virtual world created by games consoles can appear so real to children that they may think it's ok to take risks that they wouldn't when they are offline. By having regular conversations with your child about the importance of distinguishing between the online and real world you will be helping them to reflect on their online and help them ultimately to stay safe online.
We would love to know if you have topics that you would like to see covered in our blog! Let us know your ideas sending an email to info@zeeko.ie.