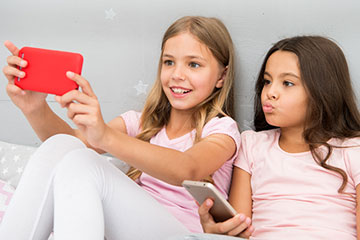 Snapchat is becoming increasingly popular among preteens and children. It is particularly popular app among children in fourth class and upwards. Essentially children can use Snapchat to send pictures and/or videos to their friends, who are also using Snapchat. The photo or video disappears in a chosen time between 1 and 10 seconds. Many children use Snapchat for the spontaneity factor, the immediacy of it as a way to share photos with their friends. However, there is also a high likelihood that Snapchat can be used as a means to cyberbully, due in part to its immediacy and the fact that the evidence disappears (or is supposed to ), as soon as it has displayed for a maximum of 10 seconds. The motivation for creating Snapchat, according to founder Evan Spiegel, was to create a service that provided more privacy than Facebook or other social networks.
It is not surprising then that parents can be concerned about what their children are sharing and with whom. So what are the things you need to consider when talking to your child about their use of Snapchat? The first thing to stress is the fact that even though your child may think that the image or video they send disappears in a few seconds, this is not strictly speaking true. A screenshot can be taken of the image and then shared. This is a great example of explaining to your child about their digital footprint, how things we post online never fully disappear. Remind them of the T-Shirt Rule which we use when we visit primary schools throughout the country. This rule essentially reminds children that before they post or share information online, would they wear what they post on a T-Shirt? This can help them to think twice before sharing.
Remind them too to only share videos or images with their friends, if they see content that upsets them make sure that they feel free to tell you about that experience. Talk to your child about the importance of behaving in a similar way online, as offline if, they come to contact with someone they don't know. While no one wants children to be frightened, it is important that they are aware, as age dictates, about the potential danger of encountering strangers when they are online.
As with all elements of staying safe online, communication is central. Talk to your child about what they shared on Snapchat and who they shared images or videos with. It is most likely that your child is using Snapchat as a fun means of communicating with friends, but it is always wise to keep the lines of communication open and encourage a Tell, No Blame approach. Therefore if there is a chance that Snapchat is being used as a way to cyberbully your child knows that they can confide in you, knowing that there will not be a negative consequence for them.
It can seem overwhelming given the number and range of apps available. Ultimately, apps will come and go, but there is no substitute for encouraging and engaging in regular communication to ensure that your child is safe online.
The Zeeko Internet Safety Guide offers more comprehensive advice on keeping your child safe online. You can buy a copy of the book here.
We regularly update or social media channels and you can follow us on Facebook, Twitter and LinkedIn.